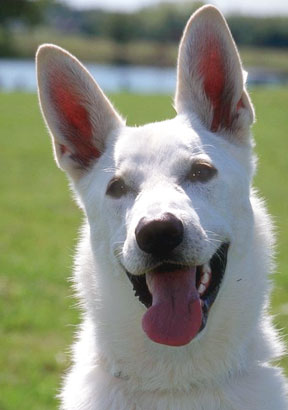 What is the best dog food in the world?
This is the best question you could ask but are you ready for the honest answer? Because the best dog food in the world does not come in a can and it surely does not come extruded into kibble or dry mixer. Look at the list below maked by a red X.
Ask yourself, do I want a dog food that will cause any of the things on that list to my dog?
Put aside your internal dialogue and what you think you believe – what you were told by others wether they are vets, TV commercials or well meaning friends. Just for this post be completely open minded to the possibilty that you have discovered a truth you did not know before.
Keep one simple thing in mind today: Children need fresh food for health and so too your dog needs fresh food for health. Food can be good for you or it can be bad for you, it cannot be both.
The best dog food in the world is the one that will:
Not cause allergies for your dog
Not cause silent but very real internal stress and anxiety to your dogs system
Not make your dog hyper, dull, dumbed down or feeling quietly sick after eating it
Not cause excess shedding of the dogs hair
Not lead to dental health problems, with eventual rotting teeth and gum disease needing extractions
Not cause massive liver stress from round the clock cleaning of foreign toxins added to the food
Not be filled with synthetic vitamins and minerals, colors, flavor enhancers, preservatives, mycotoxins and many more unhealthy additives
Not make your dogs breath foul
Not make your dogs waste foul
Not make your dogs coat smell gamey
Not cause cancer in 50% of dogs by age 10
Not cause your dogs death by the national average age of 12.5 years
It's important to shift your thinking from what is the best dog food brand or best dog food for puppies or even best dog food for pit bulls because until you realise that any dog food that has been cooked at high temperatures for hours to kill off viruses, disease, parasites and bacteria, then a whole host of additives dropped in to control the foods stability once canned or extruded to kibble, and colors added to make it appealing to dog owners, what's left of the term natural wholesome and healthy food for dogs is gone.
In it's place you have processed commercial dog food or fast food or convenience food or junk food. And we know precisely what happens to children when they live on fast food and it's no different for our dogs. Think children, think healthy fresh food and think dogs, think healthy fresh food.
All canned and bagged dog food brands are fast food. Asking what fast food is better than another fast food is not going to help you help your dog because all fast food is the same – it's all fast food branded differently.
Do You Want the Absolute Best For Your Dog?
Start to think fresh dog food and you'll be on the right track to understanding what's best for your dog. Feed fresh food to your dog and you'll completely wipe out that list above.
Ok, the results are in and after a late 20th century arrival from the commercial pet food industry in the form of cans and packets, we can now finally examine the competition between dog foods after 15 million years of dog food availability for canines. And the winner is…?
Watch the video below now.
Then watch the video below for more indepth reasons to how can easily have the absolute best for your dog.
What do Dogs Eat to Thrive Not Simply Survive?
Get the free report below, find out more about giving your dog the best because I've not met a dog yet that does not deserve the best that we can give them.