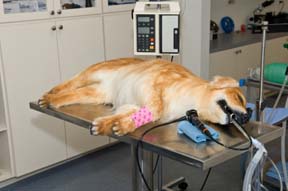 Cancer in dogs is worryingly common. In fact, it's reported that cancer is detected in nearly half of dogs over the age of ten years old and some dogs are diagnosed with the disease from as young as two and three years old! It's alarming to say the least.
Not only is it hard to come to terms with emotionally, but if you go on to pay for treatment – as most loving pet owners would do without hesitation – you'll be looking to pay some costly vets bills. On top of this, think of your poor dog. They not only have to suffer the effects of the cancer itself, but also the ongoing medication. It's not exactly a pleasurable experience.
Cancer In a Dog Can Be Avoided-Here's How?
It's almost shameful when you realize cancer in dogs can largely be avoided, simply by the diet you feed them. Yes, it's true, commercial dog food is a major cause of cancer in dogs. Forget bad breeding, breed specific anomalies, hygiene, environment and any other excuse people throw about seeking to avoid the truth, the fact is; a poor diet is the main culprit for your beloved companion's discomfort.
If you were to see firsthand what goes in to most commercially manufactured dog food, you likely wouldn't be the least bit surprised. Dead, diseased and disabled animals, you name it. And consider this, workers involved in the process of producing this type of food need to wear protective gloves and masks when handling some of the chemicals used to make and preserve it. They're toxic. We wouldn't even consider consuming such harmful ingredients, yet they're considered perfectly fine for our four legged friends?! It's crazy.
What Causes Cancer in Dogs?
Needless to say, this type of food is the culprit behind a lot of dog health issues and illness, but let's take a look at its role in cancer in dogs specifically. With the continuous consumption of low nutritional food and a cocktail of chemicals, the various bodily systems in your dog are going crazy, including the immune system. Certain toxins will be excreted through the skin as well as through diarrhea, but over time, this constant attack on the immune system will inevitably break it down to the point where it can barely do its job. This in turn makes way for rogue and mutated cells to develop into cancer, with nothing to stop the process.
It's at this point your vet then makes the recommendation to supply your friend with countless more chemicals to fight the cancer – to the tune of thousands of dollars!
What are the symptoms of cancer in dogs?
Watch this short video I made below for signs of cancer in dogs.
Dog Cancer-How To Heal And Prevent Naturally
Cancer Diet for Dogs
And for preventing cancer in dogs begin by feeding your dog a diet of raw, "real" food, or in other words, what a dog's body is designed to consume. And more importantly, if your dog already has cancer and you're looking for a solution, one that has already proven to reverse cancer, opting to replace the current commercial food with this preferred diet should be at the top of your priorities.
Don't make the mistake in assuming that cancer in your dog is the beginning of the end. Instead of staring down the barrel of high cancer treatment costs with toxic chemotherapy and drugs, look into a raw diet, implement the changes and you'll likely never look back – not to mention how thankful your dog will be!
Please comment below and leave your thoughts.
For more on dog cancer prevention and treating cancer in dogs, get my free report below.