About Dan Scott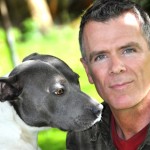 Dan was born in the early 60's on an outback Australian sheep farm handed down for five generations. His earliest memories of dog life were working sheep dogs and his pet dog, a black Labrador retriever called  'Topsy' who shared many adventures while roaming on the farmland.
Throughout his life Dan owned dogs and in his thirties he began to question why dogs are no longer fed naturally as they had been for generations on the farm.  He considered whether this had an effect on their present day health.
Dan spent the next four years researching the subject, he was so moved by the degeneration of dog's health since the introduction of commercial dog food just 60 years ago, he decided to do something that would bring about a positive change.  He put his findings together in a report entitled 'Why Your Dog's Unhealthy' which he shared initially with family and friends.  Dan inspired his local community with his consistent message on the benefits of their dogs eating a real food diet and on daily walks with his dog Rocco, his advice was often sort on anything from feeding to behavioural problems.
Before deciding to write this book, Dan coached many people, helping them understand the many health advantages of feeding their dog a natural diet and teaching them how to save money by switching over from commercial dog food with outstanding results.
Dan is now passionately dedicated to teaching people worldwide the dangers of feeding their beloved companions commercial dog food from cans and packets.  He is recognised as a leader in promoting how to have low maintenance dogs with exceptional long lasting health. Dan is a popular speaker whose talks are based on his incredible research.
In addition Dan has authored other books and reports: Working With Your Vet, Twelve Dog Behaviour Problems Solved, Canine Emergency Techniques and Vaccinations.
Dan's work is published nationally and he regularly contributes articles globally.
Tweet