Wait! Before You Get Started!
We've got a

one-time only




special offer just for you!
        Get this specially integrated 'Essential Health Package' and give yourself the             best in care for your dog with even greater savings.
Or, say No Thanks! and continue to your book and bonuses.
Special, One -Time Only Offer

Essential Health Package $107.48
Today only $19.97

(Scroll down for more about this package)
The Essential Health Package is so important for you
that
I'm willing to drop
the
published price of $107.48 to just $19.97
Yes, I Want This Special Offer!
No, I just want 'Real Food for Dogs'
_______________________________________________________________________________
Working with Your Vet:




Essential

Advice on How to Achieve the Best Possible Outcome
"Great advice for the natural fed dog and veterinary best practice"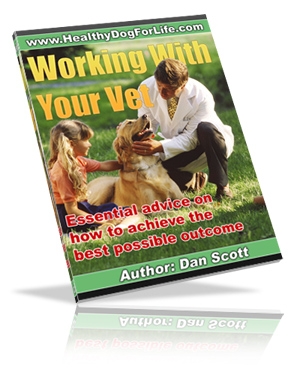 I've written this fully comprehensive and timely companion report to 'Real Food for Dogs' loaded with the most essential advice on how to achieve the best possible outcome at your veterinary practice.
Once your dog starts the road to full vibrant health with 'Real Food for Dogs' the results will speak for themselves. But having a clear understanding of how to handle your dogs vet for optimum support is crucial.
Some dog owners tend to feel a little nervous around vets, allowing them to make you feel wrong, ignorant or somehow uncaring, just because your choice is not their choice.
9/10 vets do not understand canine nutrition, it's not their field of expertise (they just sell pet food). So you're going to be the nutrition expert for your dog which is why I wrote this report to help you achieve the best possible outcome at the vets.
What to do, what to say and what not to say.
Some vets can make you feel small/stupid/ignorant/wrong – this report tells you

exactly what to say

to stay in control.
Clear advice on how to gauge your vets support.

Finding a vet that's right for you.

The one critical piece of advice about vet screenings that vital to know.

If your concerned about your vets attitude to a raw diet, this report will put you in control and your mind at rest.
Plus much much more…
"Grab this opportunity now at this low introductory offer to get this essential companion report to 'Real Food for Dogs' for the best possible outcome." Dan Scott
_______________________________________________________________________________
Vaccinations: 




What you need to know NOW about Vaccines and your dog's health that most vets won't reveal.
This report makes essential reading and whatever you do make sure to read this report before your next visit to the veterinarians for your dog's shots especially if they are booster shots.
Now your feeding your dog their natural diet, I cannot tell you how important this report is – a must have report that I guarantee will open your eyes, change your thinking and save your dog, your money and bring peace of mind.
Comprehensively researched with input from many leading authorities in the field, this report is "without doubt the up to the minute exposé on possibly the biggest leading cause for concern for dogs and their owners after diet".
"I urge you now to grab the opportunity and get a copy, absolutely essential reading!" Dan Scott
_______________________________________________________________________________
Canine Emergency Techniques:


Kit, cuts and CPR, Simple Techniques That Could Save Your Dog's Life
So few people know what to do in an emergency with their dog, do you?
Often by the time you get to the vet it's too late, when a few simple techniques are all that's needed to save your dog's life or at least keep your dog alive and comfortable until professional help arrives.
This report sets out in simple clear language the following:
The emergency 1st aid kit you should always have to hand
How to do treat wounds, everyday cuts and abrasions to car accidents, choking and even CPR
What to do in each situation to best comfort your dog

Vital information that can quite literally be the difference between life and death.

"This is a must-have 1st aid guide for the dedicated dog companion." Dan Scott

_______________________________________________________________________________
12 Dog Behavior Problems Solved:


The Stress Free Way to Great Behavior from Your Dog
We love our dogs and we want the best for them. We do our best to train them in the basics but boy oh boy do we get behavior from them we wished they wouldn't have…
Not returning or even running off when called

Incessant barking

Pulling on the leash making walks stressful

Chewing things they shouldn't

Food agrression

Fearfulness

Begging…
So here's how to…
Introduce your new shelter dog to her new home and avoid the crucial mistakes so many make

Curb food aggression

Stop separation anxiety

Be your dog's leader

The 7 basics of dog psychology…
And more behavior problems solved including ways to understand your dog better to improve both your lives.
"Straight forward, stress free, this book contains 12 of the most important behavioral changes you can make in your dog that will transform both your lives for the better in short succession" Dan Scott
_______________________________________________________________________________
This Essential Health Package purchased separately comes to a total value of $107.48

But you receive the entire package today only for just $19.97
Please Note:
This special offer is only available to you today as a thank you for ordering my book. Take advantage of this opportunity as it will not be available again once you leave this page.
8.7 out of 10 readers choose this Upgrade.