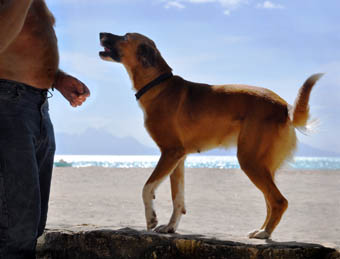 There is no doubt you as a pet owner would rather have your dog's anal glands functioning properly than not.
Yet, many dog owners spend a good amount of time and money dealing with this problem more than they'd like. Impacted dog anal glands is one of the most unpleasant canine health issues to deal with and it has the ability to lead to serious bacterial infections and dog anal gland cancer if left unchecked.
The rest of this article will help you understand and solve the longer term problem with an impacted dog. But right now you have a problem you want to go away and I understand that, so I did some research and came up with the product you see below. It works four times out of five so should be a good choice for your dog right now.
Thursday, February 21, 2019
An Excellent Fix for Anal Glands
This is a good simple quick fix I've found thats working really well to express the anal glands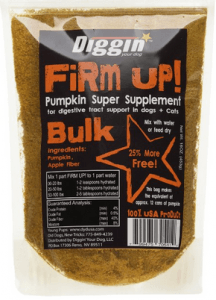 Right now, I'm getting a LOT of great feedback on this product with many dog owners reporting the fiber in this USA made dried apple and pumpkin digestive is getting their dogs anal glands working again normally by firming up stools and stopping diarrhea.
You simply add it to your dogs meals and they love the flavor. My advice is to pre-mix it with water if your adding to kibble so your dog gets more moisture. The more moisture you get into your kibble fed dog the better!
Where to get it?
Grown, made and packaged in the USA
Firm Up Pumpkin 4oz (for small dogs)
Firm Up Pumpkin 16 oz (for medium and large dogs)
If for some reason Firm Up does not work for your dog then the second best solution is Glandex. Again proven to work very well on dogs to clear up scooting and anal gland problems.
Again it's simply a matter of sprinkling a small measure on your dogs food.
Many dog owners report that after trying lots of other ways to fix their dogs anal gland blockage, this was the solution and a real life saver.
Where to get it?
Glandex – Glandex is made in the USA using the highest quality ingredients. Glandex is easy-to-use and comes as an irresistible beef liver powder! Give once daily based on your dog's weight. Lasts 7 months for a 20 pound dog!
Feedback from customer, Cheryl:
That STENCH. You know that smell if you're reading this…

Well. We just about finished our first bottle of this and I figured I might as well write a review as I'm buying the next bottle, which I hope comes in a one gallon bucket.

We have had NO (zip, zero, zilch) horrible reeking stench whatsoever since they started on this- didnt even take a week to start working, day one we were golden (thank my lucky stars). Also, I know it's not the goal of the product, but their post-poop "interpretive dances" are so happy and energetic now, you can tell they feel very, very satisfied now after going. What mother doesn't want that for their fat furry child 🙂


Edit 7/27 – 3rd time buying, because this stuff is so great. Please start making this in a larger size!!!
.
Dog Scooting and Licking, The Role of Diet in Dog Anal Glands
Impacted anal glands are largely a diet related issue as 70% of dogs with this problem subsist from a diet of canned or kibble pet food. It does not matter wether it's Pit Bull anal glands, Viszla anal glands or Chihuahua anal glands, putting an end to blocked anal glands once and for all is as easy as ridding canned foods from canine companion's diet.
A dogs anal glands are located on both sides of its anal opening. The two sacs release secretions when a stool of proper size and hardness is passed. Each dog has its own distinct scent and it is how they mark their territory. It is also what dogs sniff at when they greet each other.
However, consistently soft stools do not allow the anal glands to do their job. When a dog faces the discomfort of blocked anal glands, they will often scoot around on their rear ends to get relief. They may also lick their anal area excessively, have trouble defecating or even bite or snap when petted on the hindquarters.
Expressing Dog Glands – Only a Short Term Fix
Most commonly, dog owners must go to a vet or groomer to have their dog's anal glands expressed. In some cases, a pet owner will find this must be done almost every two weeks which can lead to soft tissue trauma. Such an unpleasant and costly cycle would seem a more than obvious sign a diet change is in order.
However, switching over to a diet of commercially made kibble does not help a dog either. Gastrointestinal problems such as diarrhea, constipation and foul smelling gas are just as rampant for dogs that eat kibble as blocked anal glands are for dogs that eat canned mush.
As stated by Dr. Wendell O. Belfield, DVM:
The most frequently asked question in my practice is, 'Which commercial pet food do you recommend?'. My standard answer is 'None."
The Best Once and for All Solution
When it comes to healing a dog's anal glands once and for all, the best option for pet owners and their dogs is a diet based around the core ingredients of raw meat and bone. It is the diet the canine physiology knew for millions of years before the advent of canned and kibble diets 70 years ago. The firm, odorless stools a dog passes on a diet of raw meat and bone ensure its anal glands will always be able to function exactly as they were intended.
Within a matter of weeks, dogs suffering from blocked anal glands will finally get the relief they've been waiting for. There will be no more scooting dog or overwhelming dog odor and no more trips to the vet or groomer for expressing dog glands. Plus, pet owners will have the relief of not having to deal with the fetid stench that is so common in the stools of commercially fed dogs.
Watch the video below and see what raw dog food poop looks like and how it expresses dog anal glands.
Pick up the free report below and discover how your dogs health and wellbeing can be easily improved.